Hi. My name is Pat. I'm a photographer. But I wasn't always.
I've had a creative drive since childhood. In fact, I could read music notation before I knew my alphabet - BOTH treble and bass clef. During my youth I learned piano, trumpet, clarinet, sax and French Horn. But music didn't pay the rent. So when I married it was off into the ranks of secretaries for me. For nearly 30 years. I toiled under the fluorescent office lights when copiers were too expensive to be used unless absolutely necessary, and there were no such things as fax machines or computers. When the first computer came into the office everyone else ran in fear. Being one of the original Trekkies, I cried grateful tears and I whispered, "Come to Mama!" You could say that when DOS was king - I was an alpha geek!
With music relegated to the back burner, photography became my creative outlet in the 80's because of my beautiful Sheltie, Casey. I loved his face - and so did everyone else. Yet when I shot a close-up of him, his nose would be in focus and his eyes would be blurry. So with the help of the manager at a 60 Minute Photo I learned the basics of photography and created photos what would melt your heart. My second Sheltie, Cory, and I did agility (which is running an obstacle course) and I really learned a lot about training dogs. I'm on my second set of Shelties now and they've been photographed so much that when I set up a backdrop, Gracie sits and poses without being asked. Duncan runs away until he realizes that Gracie is getting cookies for her good modeling work.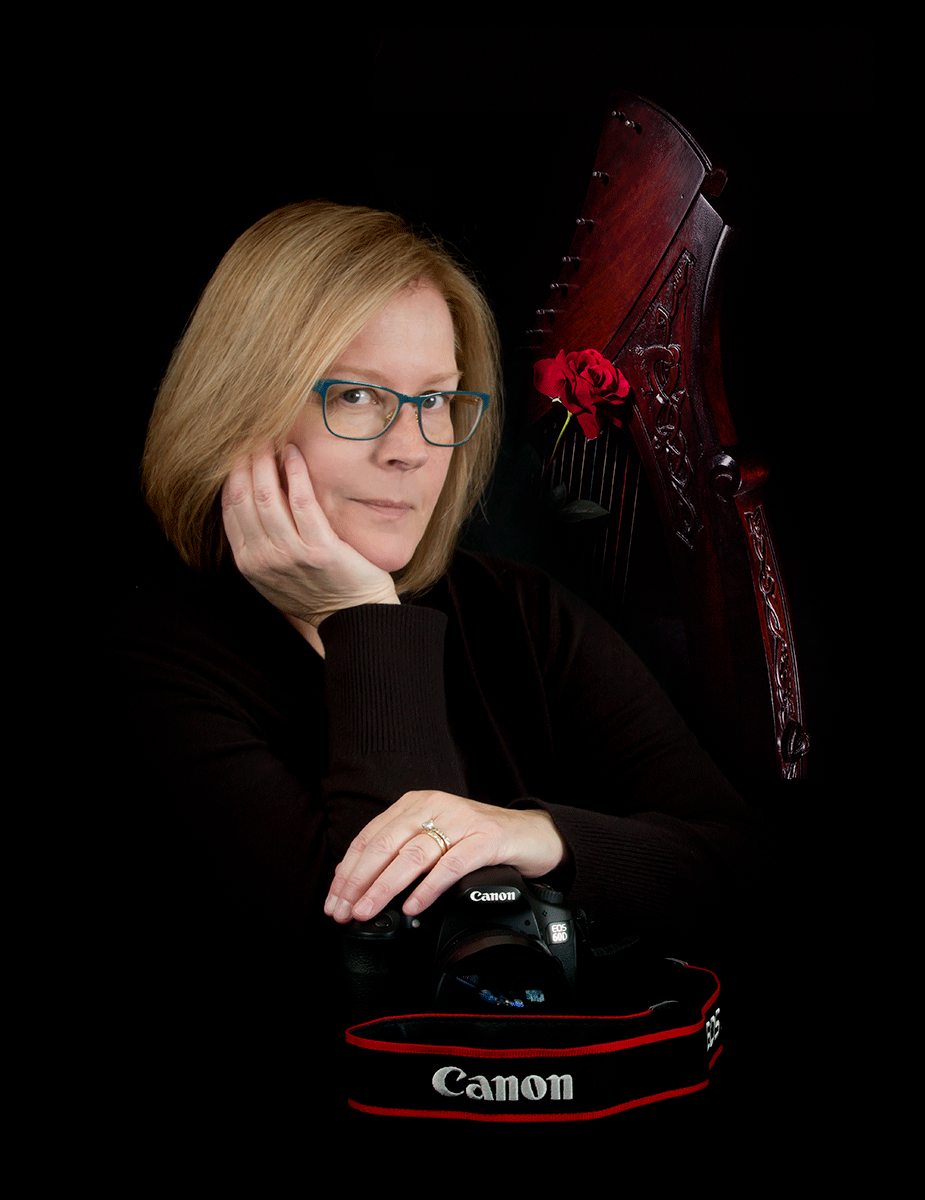 Music slammed back into my life at a renaissance festival in September of 2000. I walked by someone playing a Celtic harp and I found myself frozen in place, completely unable to move. I fell completely under it's enchantment. The next day my husband bought me a small harp for our 25th
wedding anniversary. Little did he know that that would be the start of his career as a harp roadie, as I quickly moved into a concert sized pedal harp. I now play a large mahogany Celtic harp, beautifully carved with Irish knotwork, built especially for me. When I had the opportunity to take an early retirement from my secretarial job I chose to pursue my passions of music and photography, to let my creative drive run at full speed instead of constantly reining them in.
I spent the first year of my retirement studying with some great photographers to learn all the latest technical advances and techniques to enhance my artistic vision. After hours, weeks, and months of classes and workshops I was shooting some incredible images. I began with photographing pets, and thought that was all I really wanted to do. Then I began photographing landscapes, and really fell in love with wildlife and the great outdoors. I've spent more time in the woods in the past few years than all of the 60 years before. I've run into storms because the sky was so cool. I photographed Detroit from 1,000 feet in a 4-seater plane and flew in a Vietnam era Huey even though I'm afraid of flying. I photographed the start of a Formula 1 race from the back of the Pace car and stood in the center of a motorcross racetrack. I've gotten up at 3 a.m. to get to a location before sunrise. I love it. I love it ALL.
I hope you enjoy my photography as much as I love creating it.
Pat Eisenberger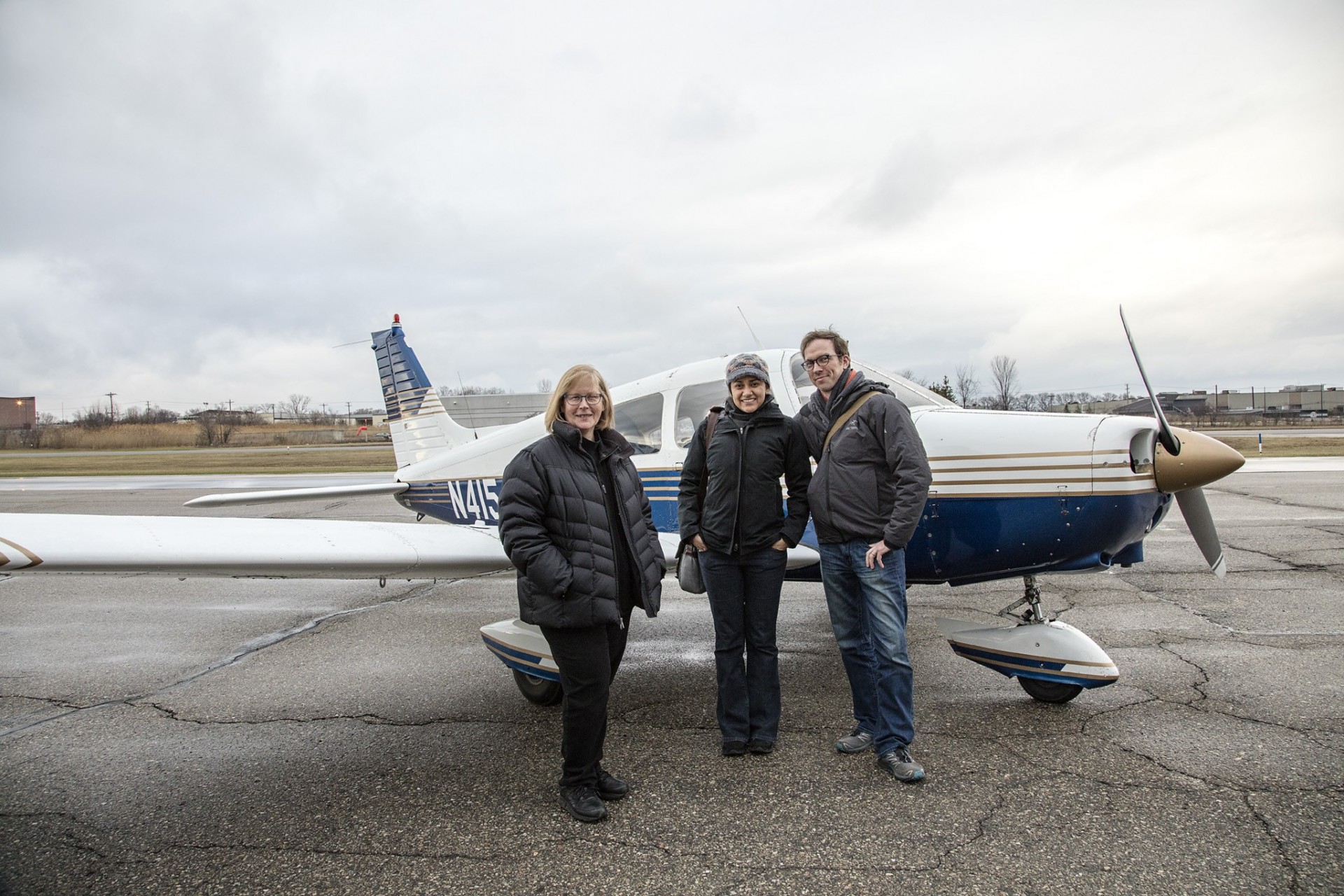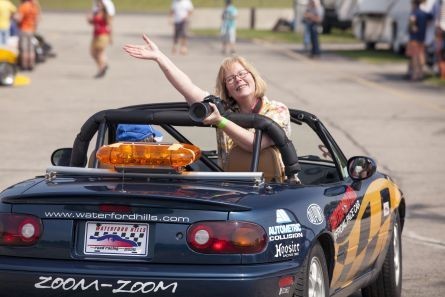 I would like to share with you my 2016 "Photography Year in Review" slideshow. It was one wild ride! You can see it on YouTube at: https://youtu.be/Pnl6t2homwU